Nav Ratna (Nine Gems)
Navaratna is a Sanskrit compound word meaning "nine gems". Jewelry created in this style has important cultural significance in Hinduism, Jainism, Buddhism, and Sikhism, among other religions.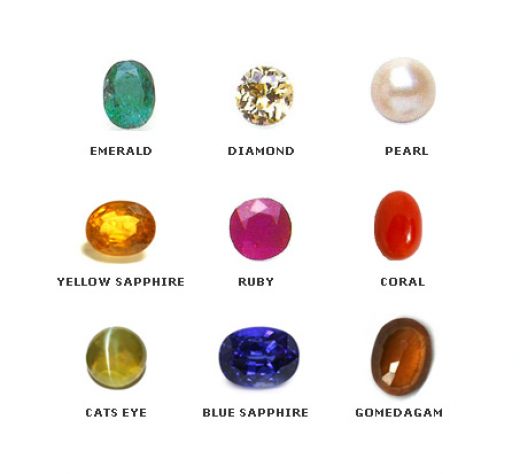 The ancient origin of the 9 Gemsócalled Navaratna in Sanskrit, Hindi, Kannada, Burmese, Indonesian, and Nepalese, Navarathinam in Tamil, Navarathnalu in Telugu, Navarathnam in Malayalam, Navaratne in Singhalese, and Nawarat or Noppharat in Thaióhas proved impossible to trace.
Yet such importance is given to this combination of nine gems that they are recognized as sacred and royal in almost all the countries of Asia, including, India, Nepal, Sri Lanka, Singapore, Myanmar, Cambodia, Vietnam, Indonesia, Thailand and Malaysia, regardless of religious and cultural differences.
Although many kinds of Gemstones have been used by mankind for their healing and magical properties among all Gemstones the Zenith is held by the Navaratnas.
The Navaratnas/Navratnas are the sacred nine gemstones as per Vedic texts and Indian Astrology that have a profound impact on human life. These Navratnas are linked to the nine planets also referred to as the Navagrahas and are recommended after the detailed study of the Kundali/ Indian Horoscope.
Recommendation of correct gemstones by Vedic Astrology is an ancient art practiced and revered since eons and bring about magical changes in individual lives.
This quote attributed to the Sanskrit "Brihat Jatak" is also quoted in the "Mani-mala" page 575, verse 79 by S.M. Tagore (1879), and also in the ancient "Jataka Parijata," chap. 2, sloka 21 compiled by Sri Vaidyanatha Dikshitar,
maaNikyaM taraNeH sujaatyamamalaM muktaaphalaM shiitagoH
maaheyasya cha vidrumaM marakataM saumyasya gaarutmatama
devejyasya cha puShparaajamasuraachaaryasya vajraM shaneH
niilaM nirmalamanyayoshcha gadite gomedavaiduuryake

Translation:

Ruby for Surya (Sun),
Pearl for Chandra (Moon),
Red Coral for Mangala (Mars),
Emerald for Budha (Mercury),
Yellow Sapphire for B?haspati (Jupiter),
Diamond for Shukra (Venus),
Blue Sapphire for Shani (Saturn),
Hessonite for Rahu (the ascending node of the Moon)
Cats Eye for Ketu (the descending node of the Moon),
...these gems must be high-born (top quality) and flawless.
Gem Stones
Semi Precious
Beads & Loose
Buy Diamond,
Saphire, Ruby,
Pearl, Coral,
Topaz, Gomed,
Cats Eye and
many more ratnas
Ratna Combos
Combined ratna
for special Yog
and dasha
Jap Mala
Rudraksh mala
Sfatic Mala
and more